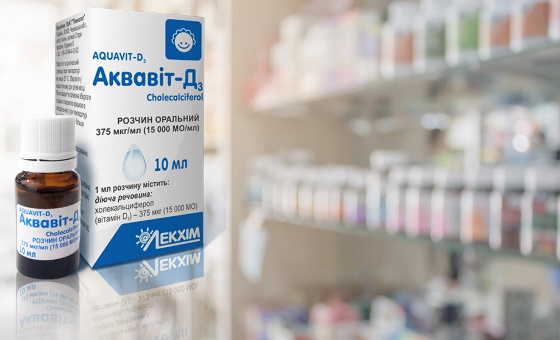 The drug Aquavit-D3 is becoming one of the most effective means in the modern pharmacological market. It contains a high percentage of vitamin D3 and comes in the form of convenient drops. If you mix them with water or milk, they will not lose their properties. If you want to know where to buy Aquavit-D3, then this article is just for you.
Modern online pharmacies offer to purchase the drug, which will be delivered to you by a courier. When you look through the prices, do not forget to take into account the cost of delivery, which may vary. So in Kyiv there are 8 such pharmacies, and we made their rating on the price of the drug.
And so, the cheapest was "Zdorova apteka" (93.57 UAH). But it's also worth considering the cost of delivery - 50 UAH, if the purchase is up to 500 UAH.
"Linda Farm" is on the second place (96.80 UAH). Delivery is possible by "Nova Poshta", at the rates of the delivery service.
Third place – "Apteka Laskava", the price of the drug is 113.25 UAH and you need to consider the delivery.
The most expensive pharmacy is "Apteka Mayak". There the price of the drug is 140.53 UAH + delivery by Nova Poshta.
Among the usual pharmacies, the most affordable are "Bazhaiemo Zdorovia" –87.95 UAH and "Apteka 3i" (Zholdyfarm) – 89.40 UAH. They both work every day without days off.
You can buy the drug Aquavit-D3 with a good discount, which some pharmacies provide in Kyiv. Most of them provide such service in case of pre-reservation and availability of the drug in stock.
"Eko-Apteka" – 91.79 (104.31)
"Apteka "Ekonom-i-Ia" – 92.06 (104.62)
"Domashniaia aptechka" – 104.55 (123.00)
"Mirovaia apteka" – 107.19 (110.50)
As we can see, in general, the average price for Aquavit-D3 is UAH 100-110. The difference between the cheapest and the most expensive position is UAH 60.
When buying Aquavit-D3, carefully inspect the package and verify its integrity. Remember, that the closed medicine stores 2 years – in open vial – 6 months. If necessary, consult your doctor.
Before using the drug, read the instruction. If after the use of the drug you feel nausea, vomiting, dizziness and kidney pains – stop the use and consult a doctor. Remember that the self-medication is dangerous for your health.