Aquavit-D3
With love from Ukraine - to every Ukrainian. The best from the sun in every drop!
Aquavit-D3 it's more than just a vitamin!
More and more studies show that vitamin D is very important for a person from birth to extreme old age. However, in most cases today, vitamin D is given only to children under 1 year of age for the prevention of rickets, and the importance and breadth of the action of vitamin D for adults is not widely known. Vitamin D plays an important role in all the basic processes of the human body, working at a deep level.

Promotes proper bone mineralization and growth, skeletal development

Water soluble form for oral administration

Rapid absorption even in liver and intestinal pathologies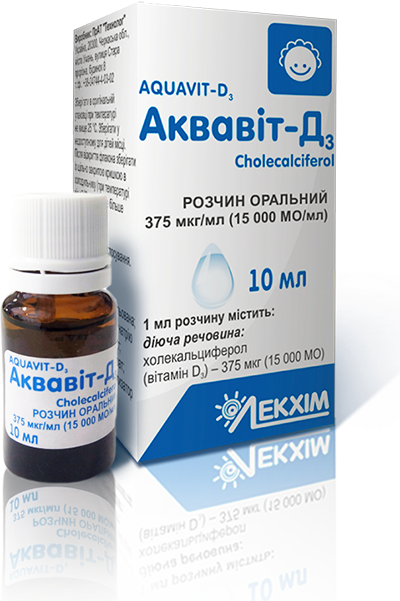 For the prevention of rickets, children from 4 weeks can be added to the mixture or milk

Made in Ukraine, an attractive and affordable price.

Strengthens immunity, completely compensates for vitamin D3 deficiency
Production
All production of the company is in the territory of Ukraine. By making high demands on ourselves, we also carefully select partners to host the production of our products. Geolik Farm Marketing Group cooperates with leading pharmaceutical manufacturers who are certified in accordance with GMP standards and provide 100% quality products.
About vitamin D3
Responsible for the absorption of calcium and magnesium, which form bone and dental tissue. Also enhances the flow of minerals into the skeletal system.
Strengthens the human immune system, and is a good prophylactic against colds.
Vitamin D3 corrects the level of calcium, which provides uninterrupted supply of nerve impulses.
Cholecalciferol supports cell growth and cell renewal.
Read more